SUPER LAWYERS - MARTIN WOLF NAMED AS RISING STAR FOR 2020. Wolf & Associates PLLC founding partner Martin Wolf has been selected as a New York Metro Rising Star for 2020 in personal injury litigation by Super Lawyers, a rating service that compiles a list of outstanding lawyers from more than 70 practice areas who exhibit professional performance. Click to see Press Release
10 BEST HIGH VERDICT & SETTLEMENT ATTORNEY OF 2019 - Martin Wolf was recognized by the American Institute of Personal Injury Attorneys as a 2019 10 Best High Verdict & Settlement Attorney for Personal Injury. This honor is awarded based on an attorney's relationships with their clients, as well as the reviews they receive from their peers. Click to see Press Release
SUPER LAWYERS MAGAZINE RISING STARS - MARTIN WOLF IS RECOGNIZED BY SUPER LAWYERS MAGAZINE AS ONE OF NEW YORK'S RISING STARS OF 2019. Mr. Wolf has been repeatedly selected as a New York Metro Area Rising Star by New York Times Super Lawyer Magazine since 2013. The 2019 Metro Rising Star List is an honor that recognizes those lawyers who exhibit excellence in practice. Only 2.5 % of attorneys in the New York Metro area receive this distinction. Click here to read more!
JURY AWARDS PLAINTIFF COMPENSATION FOR MOTOR VEHICLE ACCIDENT - Published in Brooklyn Daily Eagle, March 14, 2017, In this courtroom sketch, Hon. Wavny Toussaint listens as attorney Martin Wolf (standing), of the law firm of Ginsberg & Wolf, conducts a direct examination of the plaintiff in the motor vehicle accident trial Torres v. Goldner...The jury returned a damages award totaling $480,000.00, which included $300,000.00 in compensation for past and future lost earnings and $180,000.00 for pain and suffering... To view full Article as Published in the Brooklyn Daily Eagle, click here.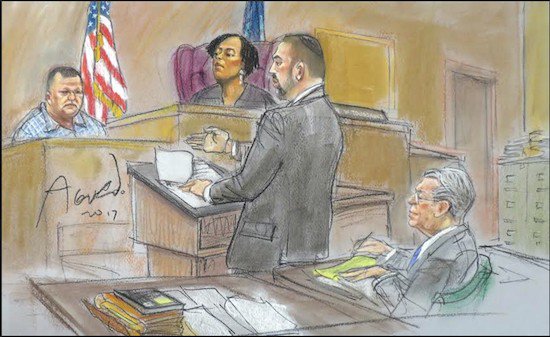 NEW YORK'S TOP 2017 VERDICTS & SETTLEMENTS ARE OBTAINED BY MARTIN WOLF ACCORDING TO NEW YORK LAW JOURNAL, 44TH LARGEST MOTOR VEHICLE ACCIDENT VERDICT/SETTLEMENT IN NEW YORK.
NEW YORK'S TOP 2010 VERDICTS & SETTLEMENTS ARE OBTAINED BY MARTIN WOLF & WOLF & ASSOCIATES ATTORNEYS ACCORDING TO NEW YORK MAGAZINE VERDICT SEARCH, INCLUDING 7TH LARGEST IN THE CATEGORY OF INTENTIONAL TORTS AND 20TH LARGEST IN THE AREA OF NEGLIGENCE. Posted August 4, 2011.